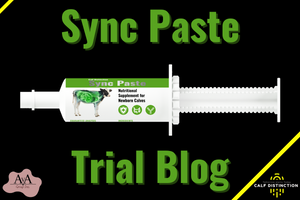 Improve Calf Health and Performance with Sync
Stress causes many changes in the gut of the animal. Studies have shown several unhealthy changes in the gut environment for individuals exposed to stress.
Gut Microbiota
Decreased numbers of beneficial microbes and increased numbers of pathogenic organisms.
Increased Gut Permeability
Negative changes in gut microbiota can lead to increased permeability of the tight junctions between intestinal cells. This can lead to contents of the gut leaking into the bloodstream without first undergoing the proper filtration mechanism that is designed to keep harmful substances out.
Functional Physiology
Major effects of stress on gut physiology include changes in motility, changes in secretion, negative effects on regenerative capacity of gastrointestinal mucosa, and mucosal blood flow.
Mitigate Stress
Stress is inevitable and a natural occurrence in everyday life. The goal is to do our best to expose our cattle to as little stress as possible and to mitigate the effects thereof. Events such as calving, shipping, and disease can be some of the most stressful our animals experience. Nutritional properties in Sync can help to mitigate that stress, support the gut and immune system, and improve animal health and performance.
On Farm Trial by AVA Group Inc.
Recently the AVA Group Inc. evaluated the effectiveness of Sync Paste on some dairy-beef cross calves. The trial included both heifer and bull calves and was repeated on two different shipments of calves.
Calves were divided into 4 different treatments upon arrival: those receiving 1 entire tube of Sync Paste, those receiving ½ tube of Sync Paste, those receiving a metaphylactic antibiotic treatment, and those receiving no treatment.
Calves were fed on their farm up to 80 days of age. Death loss, average daily gain, and medicine treatment costs were evaluated at the end of the trail and are shown in the graph below as averages of both groups.
| | | | | |
| --- | --- | --- | --- | --- |
|   | Death Loss | Average Daily Gain | Treatment Costs | Number of Calves |
| Whole Tube Sync | 0% | 1.74 | $3.23 | 17 |
| Half Tube Sync | 0% | 1.69 | $4.76 | 29 |
| Antibiotic | 17% | 1.59 | $5.02 | 15 |
| No Treatment | 17% | 1.46 | $4.79 | 17 |
AVA Group Inc. is paid a premium when they raise heavier calves. With the increased gains, decreased treatment costs, and lower death loss, it makes sense for them to continue to use Sync Paste as a vital part of their calf growing program. After implementing a full tube of Sync Paste upon arrival, Brooke Vanderloop of the AVA Group Inc., was surprised when her next group of 39 calves left earlier and heavier than the norm. Usually, she ships calves at 80 days of age, this group went out at 70 days and averaged 250 lbs. each.
You can hear more from Brooke about her trial on TikTok, and you can learn more about Sync Paste in our previous blog or buy it in the Calf Distinction Store.
Written by: Mariah Gull, M.S
 Sources:
Konturek PC, Brzozowski T, Konturek SJ. Stress and the gut: pathophysiology, clinical consequences, diagnostic approach and treatment options. J Physiol Pharmacol. 2011 Dec;62(6):591-9. PMID: 22314561.
Kiecolt-Glaser JK, Derry HM, Fagundes CP. Inflammation: depression fans the flames and feasts on the heat. Am J Psychiatry. 2015 Nov 1;172(11):1075-91. doi: 10.1176/appi.ajp.2015.15020152. Epub 2015 Sep 11. PMID: 26357876; PMCID: PMC6511978.
Jiang H, Ling Z, Zhang Y, Mao H, Ma Z, Yin Y, Wang W, Tang W, Tan Z, Shi J, Li L, Ruan B. Altered fecal microbiota composition in patients with major depressive disorder. Brain Behav Immun. 2015 Aug;48:186-94. doi: 10.1016/j.bbi.2015.03.016. Epub 2015 Apr 13. PMID: 25882912.
---
2 comments